Activist Profile: Bobby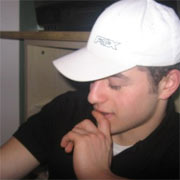 Name: Bobby Vainshtein
Age: 20
State: MA
Occupation: Student
On my playlist right now: Common — anything from Like Water For Chocolate, Atmosphere, Jay Z's Black Album
Favorite movie: Indiana Jones and the Last Crusade
Movie I have to see: Tsotsi (a film showing in South Africa, where I'm studying abroad now)
Biggest pet peeve: The smell of mac + cheese
Biggest indulgence/guiltiest pleasure: French fries, especially crisp, curly fries
Qualities people most often associate with me: Goofy, reflective, diligent
One thing people find surprising about me: Russian was my first language
One place I want to see before I die: Mt. Kilimanjaro
In my spare time I…Love listening to hip-hop, playing soccer and lacrosse and scoping out ill art.
In 10 minutes I am…Doing laundry and rolling to the beach.
In 10 years I am…A Foreign Service officer specializing in sub-Saharan Africa or otherwise involved in international security and negotiation.
The world would be a better place if…We could learn to look past religious, racial and cultural differences and realize just how similar all humans are, in their emotions, values and needs.
How did you learn about AASG and how long have you been involved? Francis Bok spoke at my high school during my senior year, and I was fortunate to speak with him about AASG after his presentation. Since then, I knew I wanted to contribute my time and efforts to raising awareness about modern slavery and human trafficking and combating these crimes. I finally had the opportunity to be with ASSG this winter.
How do you stay active with AASG? Right now, I'm rockin the iAbolish pin and T out here in South Africa, and getting both South African and other study abroad students to discuss issues related to modern-day slavery. Lots of people ask me about the gear when they see it, so wear it too and see what you can do. When I'm back at Cornell in the fall, I hope to organize a chapter there.
What reaction do you get when you tell people about modern day slavery? Hints of awareness and a desire to learn more.