The American Anti-Slavery Group (AASG) is a non-profit organization (501c3) that works to abolish modern-day slavery around the world, focusing primarily on systems of chattel slavery in Sudan and Mauritania.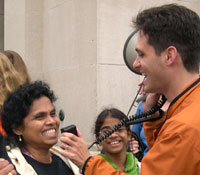 In 1994, Dr. Charles Jacobs co-founded the AASG to combat slavery worldwide. Since then, AASG has partnered with former slaves to advocate for the abolition of modern slavery and the freedom of the estimated 27 million enslaved around the world. Our tightly knit staff of employees and interns is headquartered in Boston, MA, but our reach is far wider thanks to our many associates and 30,000 members around the world.
Our efforts center around the following four components:
AWARENESS The first step in eradicating modern slavery is educating the public that it still exists. At AASG we build awareness through our publications, school curricula, conferences, and Speakers' Bureau — consisting mainly of survivors of slavery.

ADVOCACY We advocate for the freedom of those degraded by slavery through government lobbying and online campaigns, which locate effective pressure points in corporations that benefit from slavery, governments that tolerate human bondage, and leaders who remain silent.

ACTIVISM Through our website, we have established a diverse network of activists around the world who are passionate about freedom. Our grassroots activism takes the form of rallies, candlelight vigils, freedom marches, petitions and letter-writing campaigns.

AID We partner with organizations working on the ground to provide essential rehabilitation and support to victims of slavery. By providing food, shelter, education, and rehabilitation, AASG equips survivors with the tools they need to rebuild their lives.
Click here to learn more about our programs, or download our info sheet (1.3 MB PDF).