Biographical Sketch: Simon Deng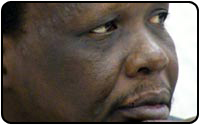 Geography: New York
Simon Deng is a native of the Shiluk Kingdom in southern Sudan. He describes his village of Tonga as a "peaceful farming community," though it was the victim of frequent raids by the Sudanese Army. Mr. Deng recalls: "One of the first things I was told as a child: if the Arab men come, just run for your life."
When he was only eight, the Sudanese army swept through his village. As he was tending to his family's goats, German-made transport trucks suddenly appeared carrying troops. He watched them burn huts to the ground, slaughter the men of the village, and steal their livestock.
Though he narrowly escaped death, only one year later he was abducted by an Arab northerner. He would spend the next few years of his life as a child slave in northern Sudan. He was shown a picture of a man with his feet and hands cut off and warned: "If you complain, this is what will happen to you." Mr. Deng was forced to sleep on straw, allowed to eat only leftover scraps, and beaten regularly. He made his daring escape two years later.
Mr. Deng went on to work as a messenger in the Sudanese parliament and later to become a national swimming champion. Today he is an American citizen, working as a lifeguard on Coney Island and leading the struggle to stop genocide in Sudan. He has addressed audiences across the nation and spoken at rallies alongside prominent women's rights activist Gloria Steinem. Last May he was invited to speak before the UN Human Rights Commission in Geneva, Switzerland.
"I thought I could forgive and forget," Deng says. "But villages are still being burnt, women are still being raped, and people are being sold into slavery. […] We Americans must act and act now."
More Information...